More press about The Path. Bring the Universal Translator online!
Wonderful things have been written about our game. In some beautiful and strange languages. And in English. Makes us glow with pride! Someone called The Path the "Un Chien Andalou" of computer games. Citizen Kane, move over! 😉 And we've heard somewhere that Tale of Tales is to indie games what indie games are to mainstream games. But I forgot where I read that. If you know, please let us know. It's a great quote.

Alright. Let the spectacle commence!
Czech:
Ve hře najdeme spoustu jednoduše geniálních nápadů, které nenásilným způsobem uvádí hráče do role spolutvůrce vlastního zážitku bez toho, aby musel na něco klikat, nebo cokoliv používat.
Swedish:
Det är deras sårbarhet som gör spelet så starkt. Det är här sex flickor, på väg genom barndomen och tonåren, som man möter under en kort stund. På väg genom livet.
Norwegian:
The Path er ingen hyggelig opplevelse. Snarere tvert i mot. Det tar for seg noen av de verste temaene du kan tenke deg, og det gjør det på en måte som kan få deg til å føle deg skyldig og skitten.
German:
The Path ist ein viel subtileres Horrorspiel, ohne Schockmomente, ohne gewalttätige Monster – es geht euch stattdessen viel lieber direkt vom Computerbildschirm unter die Haut.
Polish:
Nie mam co do tego żadnych wątpliwości. "The Path" (ang. ścieżka), autorskie dzieło Auriee Harvey i Michaëla Samyna ze studia Tale of Tales, będzie kiedyś postrzegane przez historyków interaktywnego wideo jako milowy krok w rozwoju tego medium. To, przy zachowaniu proporcji, "Pies andaluzyjski" gier komputerowych – utwór głęboko symboliczny, ekspresyjny, osadzony w poetyce sennych wizji, wykorzystujący nowatorskie techniki narracji.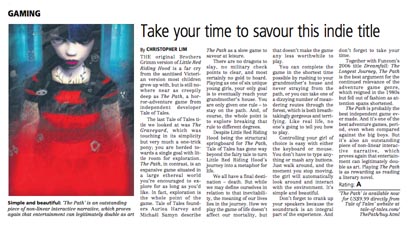 Singaporian:
The Path is probably the best independent game ever made. And it's one of the best adventure games, period, even when compared against the big boys. But it's also an outstanding piece of non-linearinteractive narrative, which proves again that entertainment can legitimately doubleas art. Playing The Path is as rewarding as reading a literary novel.
Christopher Lim in The Business Times
(bolded by us, hey it's our blog! ;p )
And English:
The artwork in The Path is exquisite and an example of how subtlety can be more effective than state-of-the-art-graphics.
Tale of Tales reminds us that we can encounter meaning even when we stray from the path of convention and explore the medium that is more expansive than we often recognize.
Jorge Albor on Experience Points
An interview for those who need to Know:
We never ever set out to make obscure or confusing work. We want our work to be pleasant, to make you feel good. It makes us feel good to play The Path and we know that many people feel the same. But other people are confused and weirded out by the game, sometimes even depressed. We're a bit disappointed by that.
Interview with Dan Liebman on Dark Zero
And we're continuing our monthly subscription to Games TM: