So, I have been exploring the wonderful world of Nintendo DS homebrew software. I recently received an M3Simply card for my DS. Put simply, without going into all the vagueries of making your DS homebrew ready, what this is, is a DS card that looks like all other DS game cards but with a little slot to put a MiniSD card into. Hook the MiniSD card up to a computer with a USB card reader and you can load files on there which are made to play on the DS.
And there is a thriving community of developers out there making games and other fun things. Drunken Coders and Dev-Scene are but two of the indispensable gateways where one can keep up to date with various DS projects in the works and more importantly find all the info and tools you need to make programs for the DS.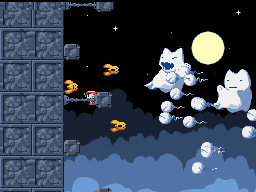 I do love World of Sand (which was first a popular java based browser game) and I'm pleased to see that Cave Story is getting a DS port too. (The project is at an interesting beta moment right now, you can run through the levels without getting hurt. It's high quality pixel art, nice to get a chance to enjoy it.) There are some very good original game projects out there too. But I am more interested in the "other fun things to do with a DS" category. The DS is all about coming up with genre defying applications, no surprise then that people have taken advantage of the touch screen to make it a multipurpose device!
So, here is a short list of hand made, home grown, DS apps that I've found worthwhile thus far.
[kml_flashembed movie="http://www.youtube.com/v/VnT3obt1XTA" height="240″ width="300″ /]
DSOrganize gives your DS PDA functions like an address book, to do lists, notepad, audio recording, mp3 playing, a very low tech web browser, IRC chat, and more. It's the kind of thing you wish Nintendo had just built in. The functionality is all there so my only gripe is that the GUI could use a bit of polish. Not so much the look of it, because it is skinnable so one can easily change the look of it, it's more in the choices made in which buttons to push and when to use the stylus. Menus hiding behind "more" buttons make the ergonomics of the applications suffer. Still, I find it to be the most useful application built for the NDS so far.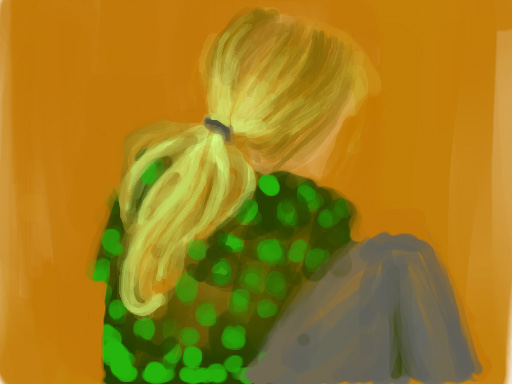 Colors! DS is by far my favorite project in progress. I actually can't praise it enough. It is a very simple, elegantly designed, paint program made by Jens Andersson. He is a true believer in the principle of less is more, usually I wouldn't be so into that, but the other paint apps I've tried for the DS usually go a bit too far into trying to emulate Photoshop. Colors! lets you just get on with it and paint. Pressure sensitivity controls opacity, the shoulder buttons bring up the color palette and brush size, start button brings up options and calibration. Other than the rather special animated playback of your paint strokes that's about all there is to it. And since you're painting on a very small screen, this is a very good thing. You're not going to paint the Mona Lisa on the DS but it's very good for hanging out in the park and drawing flowers, or making a quick portrait of someone on the train, or a thumbnail of an idea you want to expand upon later when you get to your computer. At this point it will be nice to have the wifi functionality which he's promised for a future release.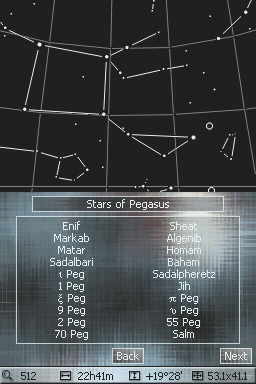 ConstellationsDS available in an Alpha version right now. It's a star chart!

I find that to be a really great thing to make for the DS. I hope development continues.
ComicBookDS serves the purpose of letting you read a sequence of image based files, most commonly one would use it to read comic books i guess, but any image sequence will work. Using the provided conversion utility you take a zip, rar or cbr/cbz archive of images and convert and compress them to be used with ComicBookDS. Actually, 4colorrebellion has done a great write up of this software, it's where I originally read of it. Ergonomics of reading lots of text on the DS screen aside, it's got a well functioning if not especially pretty GUI plus a plethora of options which I find more than adequate for reading and showing things on screen. It's also a very polished and active project.
Last but not least there's the fascinating DSMidiWifi and NDSVisuals projects. Neither of which I've been able to try yet but both of which show ingenious ways to use the DS as a controller for other host applications. NDSVisuals is an initiative to get the DS working in tandem with realtime 3d programming environment vvvv. DSMidiWifi works with a server application that runs on your computer and a client application on your DS card.
[kml_flashembed movie="http://www.youtube.com/v/AYDF313Ae7A" height="240″ width="300″ /]
There have been several interfaces made, since it's midi mostly these are music based. But I found the other day that someone has an initiative (ah, here it is, Chris McCormick's KnobsNSlidersDS.) to make it work with Max/Msp and Pd. This opens things up to just too many creative uses to name. And just imagine, controlling the lights in your house through your DS! yep, you could do that. (There is also a Wii Remote external for Max/Msp but that's beyond the scope of this article, though I'm very eager to try it out.)
So, I find this whole homebrew world is worth getting into. I think we will see a ton of great software coming from this scene. Both games and not games. As new peripherals are made for the DS developers are taking advantage. For example, the DSMotion card has enabled yet another form of DS interaction in games like SensitiveDS. And you can bet with the upcoming DS Camera peripheral devs will be inspired to do what larger developers can't or won't do. Let's just wait, and see.