I will always remember Maaike Lauwaert as an enthousiastic tester of our very first game project, 8. The thing was full of bugs and had a navigation system that only half worked. But she didn't seem to mind. She carefully explored what we had built and was able to discover many important aspects of the game. That's when we fully realised that there's different ways in which people play games. And that there might just as well be an audience for the non-violent, non-demanding and non-competitive forms of play we wanted to create.
Later, Maaike did something not many game researchers have dared to do. She challenged the theories of Roger Caillois (of the Holy Trinity Huizinga, Caillois and Sutton-Smith) publicly, claiming that they were not sufficient to cover computer games fully. Next to the familiar "competition, chance, vertigo, and simulation", she added a "fifth dimension", encompassing discovery, narrative, and progression as vital elements of a computer game.
She has developed a unique vision on games, leading her to sometimes condemn games that most people would consider perfectly harmless and embraces concepts that may surprise at first but that end up making a lot of sense. Join us on a journey full of unexpected turns and vistas.
Rules, rewards and capitalism
Tale of Tales (ToT): According to many developers and academics, games are competitive rules-based systems. And the fun that people experience in games is the result of overcoming challenges. Do you agree?
Maaike Lauwaert (ML): Sure I agree. But I do because these competitive rules-based system games are the predominant genre on the market. So it is a self-fulfilling prophecy. If other games, not centred on competition and not so overtly rule based would be available, people would in fact enjoy them. (e.g. Katamari). I don't think games, in order to be enjoyed, should be about overcoming challenges. But players, gamers are sort of conditioned into expecting a system of play that is based on missions, replays, challenges, 'victories'.
ToT: Some people would argue that the challenge/reward structure in games is an expression of the conflict that, according to them, is essential for games to be dramatic, for them to be artistic. Would you agree with this?
"Many contemporary, successful computer games reinforce our late-capitalistic societal and cultural modes."
ML: No. I think that the challenge/reward structure in games is an expression of a larger cultural structure that is overtly economic and based on 'candies after school or work'. I think we need to seek explanations of predominant gaming systems not only within the world of these games but also outside of it – the larger cultural context of computer games. Many contemporary, successful computer games reinforce – both in their structure of challenges and rewards and in their focus on collecting/gathering/accumulating – our late-capitalistic societal and cultural modes. (Katamari does this too in a sense – a bigger ball is better. But you are reminded by the king that your ball exists of human waste and debris. So it is also a critique on over-consumption. )
ToT: How important are rules in games?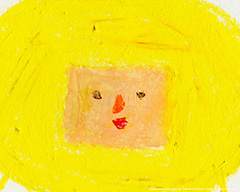 ML: There's two types of rules: the rules in the game and the rules of the programming code (object 'a' leads to action/behaviour 'b'). Although there are some games that are looser about rules in the game (again Katamari or of course Ico or what you guys do) there are hardly any games that are loosening up on this coding level.
ToT: A lot of these programming rules are built to increase the believabilty of the virtual environment (object 'a' falls over when you hit it with object 'b'). Are you advocating surrealism?
ML: I think a certain surrealism in games would do us all some good. Mainstream games are so conventional – even though they foster their 'bad-boy' or 'enfant terrible' image – there is nothing truly challenging about these games in terms of play practices. Players are not prompted to 'draw outside of the lines'. And most players obediently 'draw within the lines'.
Humor and power
ToT: The popularity of military games strikes me as especially significant in this respect. Those are typically games in which a higher ranking officer tells you what to do. And the fun is in doing as you are told. It's not very far-fetched to see how this trains a certain behaviour in the youths who play these games. Do you think game designers are conscious of the fact that their games are, well, propaganda for the powers that be?
ML: I think there are two sides to this. On the one hand, I think they don't see it as their 'job' to challenge things but simply to make games that sell. On the other hand, many military gamers are rather focused on realism – so then you have to reinforce existing power-patterns and ways of doing things. And it is probably a huge compliment when the American army approaches your company wanting to use your game as training material.
ToT: Given the success of miltary-structured games, one would think that people simply enjoy obeying rules.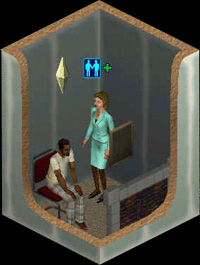 ML: I think many players would love some weird causality systems that are randomised or open to change. Think for example of all those posts on user sites about 'You know what my Sim just did??' (And then the Sim farted in the baby's crib or something).
"I don't find The Sims funny."
ToT: True enough. But only certain types of narrative lend themselves to such kinds of playing. You can't really expect to tell a sad love story and allow for characters to fart in cribs…
ML: I know. And the sad thing is, most of these 'funny quirks' in The Sims are in fact programmed. One person reports a weird thing, ten others say they experienced the same.
ToT: Do you think it is in the nature of games to be humorous?
ML: No, and I don't think most games are funny. I don't find The Sims funny. I think humour is difficult in a game. Jokes need a punch-line, for example, so they mostly take place within the non-intervention movies. ("You think this is all a game?" or something like that in that horrible boss fight in Metal Gear Solid).
Toys, games and artistic vision
ToT: Is there a difference between digital and non-digital games?
Do digital games offer things that non-digital games do not?
ML: Maybe and yes.
Maybe because I think the difference might be more rooted in the toys – e.g. digital LEGO as compared to physical LEGO – than in the actual playing with these toys. What I mean is, the difference originates from the toy. Digital toys/computer games offer different opportunities for play or for gaming than do analogue or mechanical toys. This difference can be characterised as a widening/broadening of the area of play in digital play. The sites for play are more diverse, larger, offer more options for players to add to this site and also, lots of activities take place in the 'periphery' of play: chatsites, fansites, and the likes.
On the other hand, there is also a decrease in opportunities to determine the 'content' of your game by players. And this refers back to the reluctance of mainstream gaming industry to open up/loosen up the rule-based programming code of computer games (e.g. you cannot decide to play a environmental family in The Sims, a consumerist approach is decided upon for you). Thus the differences between non-digital and digital play originate from the object with which one plays. And this results in different practices of play and sites for play.
ToT: But is this not where digital games can also distinguish themselves from toys as an artform?
Decreasing the opportunities for the players by creating content could be seen as the work of an author. If Borges had published a list with all the words of The Aleph in alphabetical order, the reader would indeed have a lot more freedom. But obviously it is possible to gain something from giving up this freedom.
"The problem is that there are hardly any 'signature-games'."
ML: True, good point. And I do agree. The problem is that there are hardly any 'signature-games'. Decreased content for the sake of a Borges-like play experience would be wonderful (and possibly truly weird) but off-the-shelf-games are produced by teams and the result not of a vision but of a combination between money/expertise/marketing research/team members/… These games are compromises in the worst sense of the word – they lack a vision.
This is why I like your work – it has vision, it is not a compromise (although everyone needs to make compromises along the way, money and technology wise mainly).
The joys of computer gaming and the dangers of consumer bliss
ToT: You seem to be comparing analog toys with digital games. But how about analog games (board games and children's games, e.g.)? Many developers claim that computer games are just an evolved version of analog games. But, especially given the disproportionate success of digital games, I have a feeling that they offer something new, something people can't get from the old games. Do you have any idea what it could be?
ML: If you compare analogue games with digital games and the success of the latter, I think reasons are manifold and very complex. But here is a list of what I think contributes to the success of computer gaming:
– they can be played alone. For most analogue games you need other players. It might take ages of nagging to get you parents or siblings to join you in playing Cluedo for example. A computer game is easily enjoyed alone without you having to feel lonely.
– they are highly entertaining. Computer games are designed to keep you entertained. After six rounds of Cluedo you get the point and want to move on to something else. Computer games move on to something else all the time without you having to switch cartridges or CD's. New levels, new worlds, new missions, new objects, new skills all have this effect of keeping you entertained and busy – they signify that the game isn't over yet. That there is more to see, do, explore, gather. And they combine different analogue forms/modes of play: competition, narrative, immersion, identification, … in one single game. Making it all the more enjoyable and entertaining.
– also, the carrot/stick approach makes them very addictive. For the same reasons that capitalism is such a successful principle, computer games based on the effort/victory oscillation are addictive. We get used to this fast pace in which fighting a boss and getting a snazzy new weapon as a reward follow each other. Although I am wary of this game structure and what it stands for/is derived from, I know it is a successful formula.
– they are visually expansive. There is so much to see and do so you feel more inclined to keep on playing.
– we love technology, and we love playing with it. A board game seems very old-fashioned, dull, slow, creaky,… when compared to these slick and attractive machines.
"I hardly finish any game because I simply don't like the final challenge: 'twitch your fingers just a little bit faster'."
ToT: Can you explain your wariness of game structures a little bit?
ML: In games: I don't need snazzy new weapons or funky helmets every two steps down the road. I'd rather have some strange experiences – like the flowers on 'my' antlers [in The Endless Forest]! Boy, did that take me by surprise and it made me so happy!!! – or weird encounters than the endless sequel of 'struggle' > 'success' > 'reward'. Especially because they seem to have programmed these games so that you only succeed after the umpteenth time. I hardly finish any game because I simply don't like the final challenge: 'twitch your fingers just a little bit faster'. I didn't even finish We Love Katamari because I wasn't fast enough with that 'world-ball'.
In general: as long as games and the structure kids are internalising through their play is based on the carrot/stick approach, I think we will have a hard time trying to raise a generation that is going to be a little less obsessed with consumer bliss than the previous generations clearly have been. In the 19th Century and beginning of the 20th Century, they clearly saw the educational benefit of training children in being a successful consumer in a consumer culture that was then still relatively new. I think the challenge for game companies today is no longer to train young people in successful consumerism but to make them aware of the effects of over-consumption (both on their personal health and that of the world in general).
That is, if you would want to make games that 'convey' anything at all. Not that I think games are training devices per se and should always be useful and educative (please not). But if so many games flood the market and the living room that reinforce a late capitalist system that glorifies consumerism even down to the level of its internal system of struggle+success=reward, I think we are facing a problem that needs to be addressed.
The Sims versus Katamari Damacy
ML: I realise I come along as a cultural pessimist. And maybe I am. But that's not the point here. I think computer games would benefit from a diversification. I know that the challenge/reward structure in games is here to stay but I think it would be useful/enjoyable if games based on other principles would be produced on a larger scale.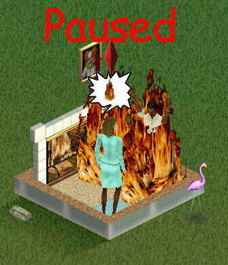 ToT: People always suggest The Sims as an alternative: an open-ended world with goals that you invent for yourself and the freedom to play however you want. I know you don't agree with this. Please explain why. And how is a game in which a father shoots at his son when he didn't finish something in time (Katamari Damacy) superior?
ML: The Sims is not an open game in the sense that you cannot but play along the lines of this suburban household game. You can choose between wanting to become rich or wanting to become famous – that does not constitute a choice. I want to add a quote here:

"But the interactive enthusiasts need to take a closer look at the degree and kind of 'active' participation of young audiences in the construction of their 'own' digital culture. Choosing a corridor, character, or weapon (…) can be very absorbing. But it is hardly a matter of radical openness or deep decision about the content of play. Gamers['] (…) actions consist of selections (rather than choices) made between alternatives that have been anticipated by the game designers."
Kline, S., Dyer-Witheford, N., & De Peuter, G. (2003). Digital play: the interaction of technology, culture, and marketing. Montreal; Ithaca [New York]: McGill-Queen's University Press. pp. 18-19.
The popular view on Wright's games is indeed that they offer endless and borderless practices of play with unlimited freedom to experiment, act out, create, destroy and reinvent. Almost every review of Wright's games, every manual or official game description will state that the game allows you the player to create the city, the household, or the relationship of your dreams. And there is considerable freedom on the level of form, especially in SimCity and The Sims. Nevertheless, actual practices of play will almost always take place within the framework of what is intended, hoped for and can be capitalized by the game industry.
"I'd rather be slavishly rolling a ball through a child's messy room than doing virtual dishes."
Katamari Damacy is not an open game either. But it doesn't pretend to be so. I loved playing this game because it was weird in a nice way, and playful and naive and it was not conventional or normal and because the father shot at the prince which made me really identify with him ("oh no, don't do that! he is suffering!" and you cringe along with him). I'd rather be slavishly rolling a ball through a child's messy room than doing virtual dishes.
Why I think this game is a successful diversification of the game industry's output has to do with its 'otherness'. I do realise this might have to do with the simple fact that it is not a Western game and that it is weird only to me/Western players.
Anyway, Katamari Damacy also has a success/reward structure (you get this really neat little prince to wear on top of your prince's head for example) but it is less pressing and the pleasure is not the rewards themselves but being able to roll ever bigger things in your ball. And most rewards are 'accidental' (You just rolled another weird little creature into your ball). Meaning that you are not playing for these rewards. You don't need that special sword to fight the ultimate boss fight and finish the game. They sort of come along.
In other words, why I think KD is different (at least for Western players) from mainstream computer games in a good way:
– surrealism: both content-wise and design-wise (the drawing-like character, the colours,…).
– other emotions are evoked: humiliation most notably
– humans are ridiculed as spending machines
– not a rigid 'you have to do A first before you can get to B' -structure
– it turns something rather simple – rolling a ball – into so much fun
The author's vision versus the players' creativity?
ToT: Given the success of the compelling challenge/reward structure in most computer games, how feasible is a less demanding and more creative form of play, in your opinion? Is there an audience for these types of games?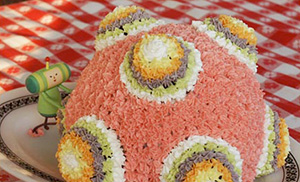 ML: I think so yes. Especially given the fact that increasingly new innovations or new approaches to existing innovations are user-driven. With the right amount of community building, open source ethos and the opportunity to let users create and implement their own content, such a new form of play could certainly catch on. I think simply dropping it on the market would prove unsatisfactory.
ToT: Earlier you spoke in favour of artistic vision, condemning excessive compromise in design. But putting the responsibility for the content onto the shoulders of the users seems like the worst kind of creative compromise imaginable.
It's probably a lot of fun for people to create their own content. But aren't you pushing games even further into the toy category this way? What about the dream of games becoming a new entertainment medium, a new cultural force, the art form of the 21st century?
ML: Okay, i think i have mixed up two ideas of where we want to go with games:
– the designer signature, 21st Century art form games with clear artistic vision
– the creative play games that loosen up the causal structure of challenge and reward.
These two things can go together but they can also be separate things.
You can have really creative games with a clear vision but also with a clear challenge and reward structure. I think Ico would fit into this category: amazing game, really fun to play but not really innovative in terms of gameplay. The design of the game world, the story are the most important assets of this game. Or this really neat SketchFighter 4000 Alpha game: on the level of form really creative, not so much on the level of gameplay.
"Although there are a lot of conservative gamers, the industry is the most conservative player in the field."
You can also have games where the most important assets are another gameplay structure, not based on challenge/reward. These are harder to come by. If you want to achieve an innovation on the level of gameplay rather than on the level of form, you might want to tap into user created content to give body to this form. I think it would ease the acceptance of new forms of gameplay when user communities are involved, created, heard…
But that is simply an answer to what I interpreted as a 'commercial-feasibility' question. I don't think everything should be commercial – please not.
And of course you can have a game that does both: like The Endless Forest and 8.
ToT: [blushes]
ML: Having said that, I realise i haven't answered your question at all. Only from a certain perspective and point of view. So let's retake this one…
ToT: Okay: "Given the success of the compelling challenge/reward structure in most computer games, how feasible is a less demanding and more creative form of play, in your opinion? Is there an audience for these types of games?"
ML: I think there is an audience for more creative forms of play. If you look at how fed up people are getting with the serialisation of games, the 'the new jacket for the same old tricks' sort of thing. The question is whether the industry can take it. When Wright could not sell his SimCity idea and thus started his own company – Maxis, the game industry was a different place. Although there are a lot of conservative gamers, the industry is the most conservative player in the field.
ToT: Disregarding the economy of things, how far do designers need to go? Does Katamari Damacy present a perfect balance between play and joy? Or should the designers evolve structures that deviate even more from the typical game?
ML: I think designers should go as far as the technology allows them to go. According to design theorist Manzini, design is that which takes place at the intersection between the thinkable and the (materially/technologically) possible. So we have all these amazing technologies at our disposal, at reasonable prices, with a public willing to spend serious amounts of their income on these technologies. I think we should simply push on the side of the possible. I have often lamented in my work the fact that 'playing outside of the box' is hard in commercial computer games. I think that designers need to start thinking and designing out of the box too. This would allow for more diverse practices of play on the receiver end of things. More over, with a gamer public that is not only technologically savvy but also willing to spend their time on thinking with the designers, to create content, new levels, patches, and mods, I think designers can actually push the thinkable further with player's help.
Interview conducted via email by Michaël Samyn in June and July 2007. The text has been reformatted a bit for readability.
Images of The Sims (EA/Maxis) collected via Google Images are from a Sims Torture experiment. The Katamari Damacy (Namco/Bandai) wallpaper used as an illustration can be found here. And the yummy looking Katamari Cake was made by thesingingleaf and was found on her flickr page.