We have posted the text and slides of our presentation at the Art History of Games symposium last Saturday in Atlanta.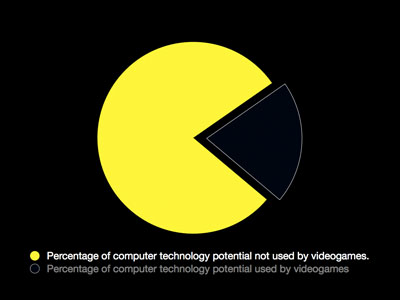 Videogames are stuck. Despite of the ongoing technical evolution and the continuous calls for a new medium, videogames have stopped evolving. They have found their comfort zone. Videogames are happy. Happy being exactly what they are. Fun activities that nurture our inner child.

While our inner grown-up is starving!

We need a new medium that can help us cope with the complexity of our post-historic universe. The interactive, non-linear and generative capacity of computer technology offers such a medium. There is no need however to limit what we create with this technology to the format of games. The possibilities are endless.

There's a lot of work to do.

Videogames have taken computer technology hostage. It is time to liberate the medium and start feeding our starving hearts and minds. We need to stop making games and look further, go farther, step into a new world. Create interactive entertainment for all instead of squeezing people into oppressive sets of rules and goals. We have the technology. We have the desire. So let's get to work!