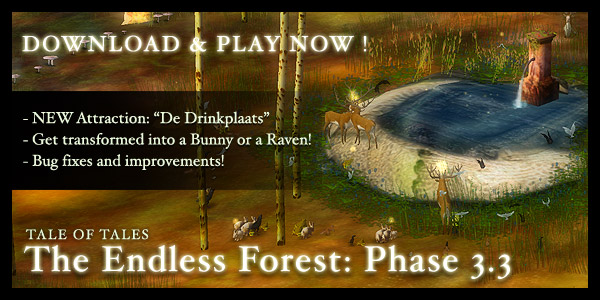 Download The Endless Forest here. It's free. Like, for real, not as in "free to play".
We have upgraded The Endless Forest engine and added a new feature to the game for the occasion of the exhibition Fantastic Illusions which opened in Kortrijk last week. It's an exhibition of work by contemporary Belgian and Chinese media artists that explores the idea of immersion (there's two games in it: The Endless Forest and Flower). The show ran in the Museum of Contemporary Art in Shanghai in September and can now be seen in the Broelmuseum in Kortrijk until February.
The Broelmuseum collection includes several paintings by 17th century Flemish painter Roelant Savery, many of them featuring animals very prominently. One painting, entitled "De Drinkplaats", or "the watering hole", served as the inspiration for the addition we made to The Endless Forest.
In The Endless Forest, De Drinkplaats is a peaceful place where players can bring their deer to have a drink from an eternally flowing source. When they do, however, they change into one of the other animals that inhabit the forest, often of disproportionate size (including the new raven and bunny!). The more players gather in the place, the more magic happens (courtesy of ABIOGENESIS).


This could be you!