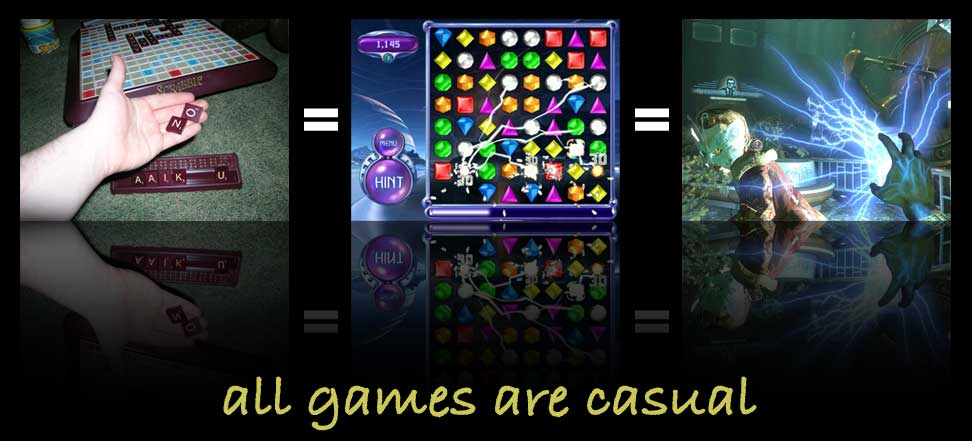 All games are casual. Computer games are no exception. Games have been casual for centuries. There is no distinction, in terms of structure and mechanics, between a first person shooter and a game of pop the bubbles. Casual games are nothing new. And they are everywhere.
Contrary to popular opinion in the video games industry, everybody plays games! People play scrabble, they play chess, tic-tac-toe, cards, etcetera. People have always played games, casually. And now they play them on computers. The so-called rise of casual games does not exist. It's simply people using computers (and other techno-gadgets) more.
Some computer games, however, offer more than casual entertainment. These games simulate believable environments and feature interesting characters, artificial intelligence, deep stories, sophisticated soundtracks. Games like this show us a glimpse of the future of the interactive medium.
But to this day, sadly, even most of these games still contain a mind-numbing layer of casual gameplay. Get the keycard, kill the boss monster, solve the puzzle, collect the gold, win some stupid game. Go to the next level, start again. Ad nauseam. Completely destroying the delicately woven layer of fiction and simulation that can be so rich and meaningful.
While we can play games with computers, we don't need computers to play games. But to create an interactive illusion, an immersive and believable environment, a fiction that responds to your every move, requires a computer. This is where the heart and soul of computer entertainment lies. This is what we need to focus on.
The casual designers can continue to explore the myriad constellations of "interesting game mechanics" and "cool level design". As they have been doing for centuries. We can even learn a thing or two from them. Accessibility for instance. While there may not be much difference in terms of structure and mechanics, the interfaces of explicitly casual games are often simply much better designed. Because casual games target everybody, their interfaces need to be intuitive and simple. There is no reason for interactive entertainment to be complicated.
Casual gameplay is universally appealing. Even on a computer. Everybody plays casually at some point. But these experiences are not meaningful. They are not important to most people. Casual game experiences are nowhere near as significant as experiences with film, literature or music.
If we want to realize the enormous potential of the interactive medium, we need to get rid of casual gameplay! Move on. And concentrate on the unique things we can do with this technology. Less casual, more ambitious, deeper, interesting, new.