July 1st, 2011 by Auriea
From June 30 to July 10 during the Steam Summer Sale you can get
The Path, Fatale and The Graveyard on Steam for 75% off
. So if you've been waiting to fill out your Steam library with Tale of Tales videogames, now is the time!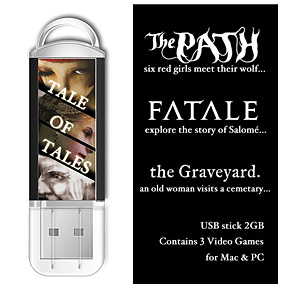 Also, we've created the TALE OF TALES Complete USB Edition 2011
In one package you get Mac and PC versions of our 3 critically acclaimed video games: Fatale, The Path and The Graveyard. We are also including The Path Prologue, The Graveyard Trial, and extras for each. This is a beautiful way to show your support of our projects or a great way give the gift of unique interactive entertainment to a friend.