---
Interview with Fuco Ueda


The design of the characters in The Path was inspired by the work of several contemporary artists and designers. In this series of interviews, we let the Red Girls themselves ask questions to the artist about their work.
Fuco Ueda
FUCO UEDA

上田風子
makes picture of girls. Not innocent girls or defenceless girls or even seductive girls. Fuco Ueda paints guilty girls, aggressive girls, seduced girls. There's certainly an element of sweetness in her work. To the point where the honey literally drips form the flowers. But in her pictures sweetness becomes strength. Her girls don't seem to need anybody else. They are each other's friends. And they do whatever they please. In the process they may arouse us and confuse us. But in the end, the only pleasure they care about is their own. And they leave us, the viewer, to care about their pain.
This interview was conducted in April 2009, thanks to the kind offer of Ellie Nagata to translate the questions and the answers.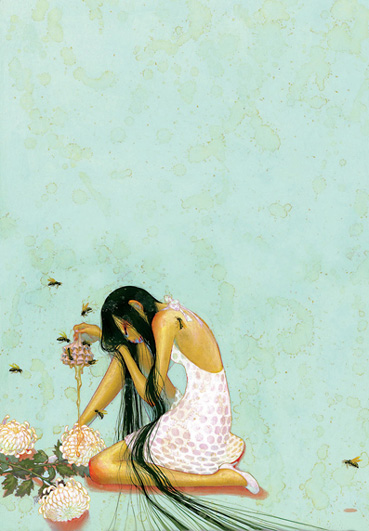 ROBIN: Are the girls in your pictures good girls or naughty girls?


ロビン:風子ちゃんの絵の女の子たちは、いい子なの?悪い子なの?
They're both good and naughty.
いい子にも悪い子にも、どちらにもなります
ROSE: Why do animals and plants touch people so much in your work?
ローズ:風子さんの絵の中では、どうして動物や植物はそんなに人間をさわるんですか?
It's a symbol of their love for one another. The girls, the cats, the moray eels, the chysanthemums, the chairs, the cake–they're all very good friends.
親愛の印です。少女も猫もウツボも菊の花も椅子もケーキもみんなとても仲が良いんですよ。
GINGER: Your characters look alike. Are they sisters?
ジンジャー:どっか似てる女の子が多いよね。姉妹なの?
The girls do not exist as specific individuals. They may wake up one morning as deer, or turn into birds and fly away after having lunch.
少女達は個人を特定する存在ではないのです。少女達は明日の朝起きたら鹿になっているかもしれませんし、お昼ご飯を食べたら鳥になって飛んで行くかもしれません。
RUBY: There's often a kind of party going on in your pictures. Do you like parties? Do you have many friends? Or do you like being alone?
ルビー:パーティーが開かれている絵が多いと思うのですが、風子さんはパーティーが好きなのでしょうか?お友達はたくさんいますか?それともひとりでいるのが好きですか?
The girls can adapt to any treatment or circumstance in a snap. They don't feel lonely when they're alone, but they also enjoy being with a large group of friends.
少女達はどんな待遇・境遇にもたちどころに順応してしまうのです。 一人でいてもさみしくはありませんし、大勢でいる楽しさも十分知っています。
CARMEN: With the flowers and the honey, the food and the short skirts, your work feels very sensual. Is it about sex? And if so, how come you never draw a nude figure?
カルメン:花や蜜、食べ物や短いスカート。とても官能的な作風だと思うけど、セックスと関係はあるの?もし関係あるんなら、なんでヌードは描かないの?
I'm aware of the possibility of making a connection between the image of the girls and that of sex. However, they don't seem to be interested in sex as an everyday physiological activity. I don't find nudes erotic, but shrugged shoulders and legs extending from skirts and the like do have a special place in my mind.
少女達はセックスに結びつくイメージを持たれる可能性があることは知っています。しかし、彼女らは日常の生理活動に堕ちたセックスには興味はなさそうです。ヌードにはエロチックな気配を感じませんが、すぼめた肩やスカートから伸びる足には精神的な思い入れを持っています。
SCARLET: Where do you prefer to see your work? On the internet, in a
book, in a gallery or in someone's living room?
スカーレット:風子さんは、ご自分の作品はどこにあるべきだとお思いですか?ネット上、本の中、ギャラリーでの展示、それとも誰かの居間でしょうか?
My works can be seen in their best condition inside my head. But then I would be the only one who can see them, so I started making pictures, which brings us where we are today. I prefer to show the original works where possible (because the true color is always lost in print or on the web).
一番良い状態の作品は私の頭の中で見れます。しかしこれだと私しか見る事ができないので、絵を描き始めて今に至ります。できれば、原画を見て頂きたいです。(印刷やウェブでは本来の色が変化してしまいますから。)

---
ありがとうございます

Thank you, Fuco. We wish you -and your girls- the best of luck.

Readers who want more, should visit Fuco Ueda's rich website. And become her fan of Facebook!
---