2019
After having lived together in Ghent, Belgium for 20 years, in which we release 8 videogames and Michael's children grow into fine young adults, we move to Rome, Italy. 2019 Is Auriea's first full year as Professor at the Kunsthochschule in Kassel, Germany where she becomes department head. We continue to work on The Endless Forest and show Cricoterie on several occasions in different countries. Auriea's intermittent absence from home and moving to another country drastically impact our life and work.

Song of Songs in 2019
an overview by Auriea Harvey & Michaël Samyn
January
In January we make our long overdue journey to Andalusia to see the palaces, fortresses and churches, pictures of which had inspired our very first, never published game "8". A game based on Sleeping Beauty and especially on a version we found in an old Italian compilation of fairy tales after which we named our studio: "Tale of Tales". So this trip was very special!
In Granada, Michael tries out beautifully crafted guitars and we explore the mythical Alhambra. In the hills later that evening we develop a fascination for Flamenco. In Córdoba, after filling our spirits in the cold mosque-turned-cathedral, we dive into the pleasures of the hot Hammam. In Sevilla we combine cathedral and Alcázar palace with more Flamenco. And in Málaga we celebrate our 16th wedding anniversary at the Hotel California and a lovely restaurant on the beach.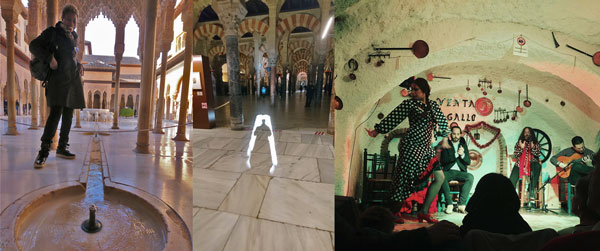 Exploring Andalusia in the cold winter sun.
But January also has a shadowside. Auriea's father passes away at last and Michael's father has cancer, which he will luckily survive after several operations and chemotherapy.
Auriea continues her work as Professor of Games as Artistic Practice in the Kunsthochschule in Kassel, Germany driving back and forth from Ghent, Belgium every other week. It's hard on her to drive and it's hard to be separated so much, but we adapt.
Our first collaborative piece, "Skinonskinonskin", 20 years old now, is restored by Rhizome and featured in "The Art Happens Here: Net Art's Archival Poetics" in the New Museum in New York City.
February
We start the month by publishing an update on the work we did in January remaking our first released game The Endless Forest.
Michael starts a second semester of Italian evening classes at the university and continues his study of the classical guitar and the viola da gamba.
Auriea teaches the last classes of the semester in Kassel. And ends up getting interviewed in the local newspaper. She and her students were working on a 3d printed chess set with original character designs, and many of them were embarking on their first videogame projects.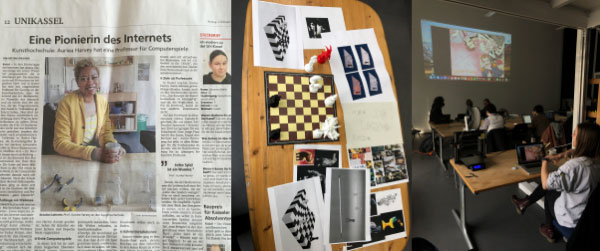 Auriea, taking her teaching very seriously.
Back in Belgium, in the Concertgebouw of Bruges, we hear all the Bach cello suites performed by Pieter Wispelwey and his Brandenburg Concertos performed by B'Rock with Rosas dancing on stage.
In The Endless Forest we implement the weather changes.
March
Auriea travels to the USA to take her mother to Mardi Gras in New Orleans as a celebration of her 80th birthday. They have a good old time. Then she has a long overdue and fun visit with her family in other parts of the USA.

Auriea visits the "The Art Happens Here" here in New York City on her way to New Orleans for Mardi Gras while Michael stays at home to learn Italian from classic films.
Michael stays in Belgium and attends many baroque concerts on his own. In search of a way to improve focus when playing music himself he discovers Alexander Technique.
For the 10th anniverary of The Path we discount the game by 99%.
We submit a funding request to the Flanders Audiovisual Fund for a new VR piece in the context of our big ongoing project Cathedral-in-the-Clouds, called "Compassie".
And we have a first Skype conversation with a new museum in Brussels that wants to show our work in games.
April
For Easter we release a new "pre-alpha" build of The Endless Forest that allows players to change the appearance of their avatars. This allows us to give backers of the crowdfunding campaign one of their perks: the Tin Deer set.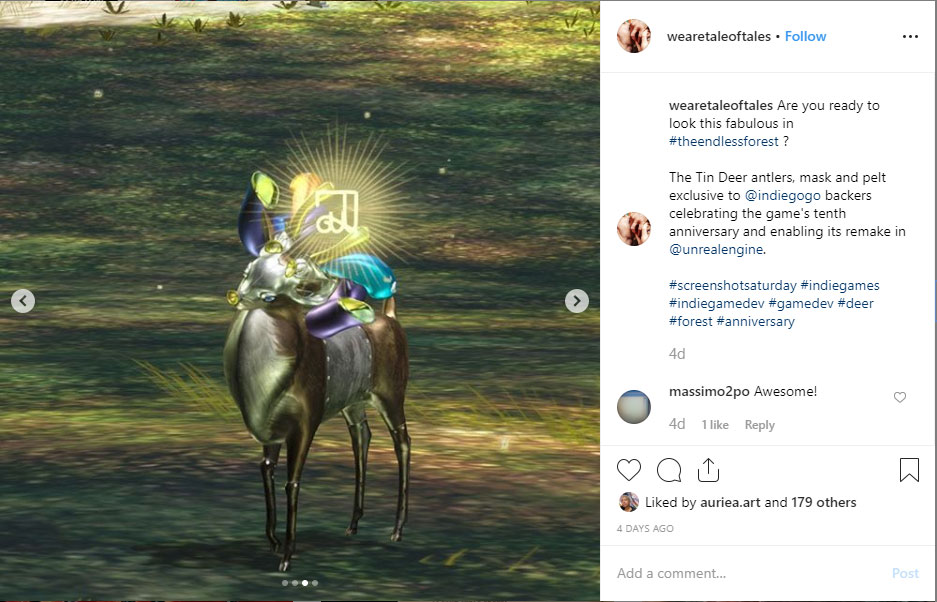 The Endless Forest's Tin Deer instantly becomes super popular.
We submit a request to Epic Megagrants to help fund the remake of The Endless Forest in Unreal Engine. But they refuse.
We go to Brussels to have a meeting in that new museum that wants to show our work.
And we travel to Berlin where Auriea, as professor of games, presents on a panel at the Quo Vadis conference and attends the Amaze festival with her students, while Michael practices Bach on his guitar in their hotel room. We also discover the wonderful Bode museum. And then we get sick: Auriea from the partying, Michael from the cold. As a result, we decide to stop drinking and smoking. Thank you, Berlin!
The Endless Forest is shown at "Now Play This" in Somerset House in London. And "The Graveyard" travels from London to Dundeee with "VIDEOGAMES: Design/Play/Disrupt", the fantastic Vicoria & Albert Museum exhibition of games.
Michael starts Alexander Technique classes and discovers it is just the thing he needs to deal with his fragile spine and finding the right posture for playing music. It's a difficult technique to learn but he finds a good teacher in Ghent.
May

We make an update to Cricoterie that includes contemporary elements, next to the ones taken from the theater of Tadeusz Kantor. We add a prisoner, a Muslim woman, a drone, an Amazon package, a balloon dog, etcetera. This update was presented at the Foksal Gallery in Warsaw, Poland. A gallery co-founded by Tadeusz Kantor himself and a beacon of the avantgarde for many decades. We're very proud to see the classic poster design with our names on it.

Critorie is shown in the legendary Gallery Foksal in Warsaw with Auriea's sculpture of the Janicy twins, actors in the theater of Tadeusz Kantor that inspired the piece. This is probably our first solo gallery exhibition.
At the end of the month, Auriea cuts her hair very short.
June
We update The Path to version 1.22 in the hopes of fixing a bug that makes the game crash on some contemporary versions of Windows. We submit Cricoterie to the Oculus Store but never hear of it again.
We skype with the Tinguely museum who want to show Cricoterie in Basel next to an exhibition about Kantor's theater. We present our initial ideas for an exhibition about our games to the new museum in Brussels.

Michaels continues to study Italian, the Yucca blooms for the first time in three years and daughter Martha becomes Master in interior architecture (MSc).
The Flanders Audiovisual Fund grants us the requested subsidy for "Compassie" but production will have to wait because we decide to move to Rome by the time our lease in Ghent is up on 1 October. Because of this decision, Michael's main activity, while Auriea goes to work in Germany, becomes apartment hunting via web and email. The little Italian that he has learned comes in handy.
Our game "Sunset" is featured in "Conflicts. Exhibition of Games." during the Malta Theatre Festival in Poznan, Poland.
July

Bouncing from one side of the city to the other we encounter many lovely places to live.
With a tight schedule of appointments we book a trip to Rome to go look at apartments. We have been talking about it for so long we couldn't wait to make it happen any longer. But due to bad planning, we miss the flight! We had to pay lots of money for a new ticket to still go that day or lose all the appointments we'd made. We go. It's hot in Rome! We see 16 apartments and agree on one near Vatican City. We submit a proposal for renting it to the agency and return to Belgium.
While Auriea goes to work in Germany, Michael starts cleaning up the Ghent apartment in preparation of the big move. We need to sell, give away and trash a lot of our stuff because it won't fit in the new apartment or it is too expensive to move to another country. We are also required by our landlord to repaint the walls in the original color. This is done over twelve days during a heatwave, losing a lot of weight in the process.

Whitewashing the Ghent apartment in a color appropriately called "Desert".
When Auriea comes home we visit Paris for a day, a celebration of both our birthdays and a final tour of a city that has meant so much to us over the years. Trips like this will become a lot more difficult out of Rome. We say goodbye to the burnt out Notre Dame.
In the middle of the month we come to an agreement with our new landlord and book another trip to Rome to sign the lease on 31 August. We stay a first day in our new apartment and return to Belgium leaving our suitcases behind.
We can't afford a rental company so we decide move our stuff ourselves in a rented van. This means our belogings need to be reduced to 10 cubic meters. And we need to learn how to drive such a vehicle.
A cricket appears in our garden in Ghent, it sings to us every evening as if to say "Don't go. Please stay."
August
We continue the process of packing, cleaning, selling and giving away. We bring some things to Auriea's apartment in Kassel, where she stays when she works at the Kunsthochschule.
We skype with Matteo Bittanti about teaching a workshop at IULM in Milan next year. We have a meeting about the Brussels museum exhibition. And we make a special build of Cricoterie for the exhibition in the Tinguely museum. After which we pack up our VR gear and computers.
In the middle of the month we cram most of our stuff in a rented van with the help of Michael's daughter and her mother and drive off. Three days later we arrive in our new home town. We unload with the help of Giuseppe and Francesca, wonderful friends of a friend, unpack the next day and drive back in the empty van. On our way through Switzerland we stop in Basel to visit the Tinguely museum, where Lisa Grenzebach gives us a private tour of the wonderful Rebecca Horn show.

Moving the rented reusable green boxes from one hallway to another, 1700 kilometers away. We had packed the van with the aid of a 3D simulation of how to fit everything in it.
While the Ghent apartment is resisting our departure with water drainage problems and ant infestations, we say goodbye to old friends in Belgium and organize a house cooling party.
On 25 August we say goodbye to the city where we have lived happily for twenty years. We visit the inspiring Sint-Bavo cathedral with Van Eyck's magnificent Altarpiece, the wonderful MSK museum and the lovely Citadel park.
The next day we load the remaining stuff, mostly fragile items such as musical instruments, 3D printers, and a brave cat named Ling, in our small car and leave Belgium for good.

September
Even though we arrived a few days earlier, we consider 1 september to be the official start date of having moved to Rome. On that day a heavy lightning storm hit the city forcing us to seek shelter under a hotel canopy for half an hour during a walk through our new home town.
Auriea installs in the living room while the ceiling in the room that is to become her studio is being repaired. We take care of our urgent internet needs through rented mobile routers and spend most of our time thinking about decorating our new home. We had left a large part of our things behind and needed to buy many essentials anew. Starting with a bed which is delivered in the middle of the month. We both study Italian at home but since Auriea also needs to learn German for her work, Michael is the only one to start formal lessons in Rome, with ItaliaIdea, a short walk away. Michael also reconnects with his Roman viola da gamba teacher Silvia de Maria and continues his study of the instrument.

Milestones: internet access and our names on the buzzer.
We start the process of acquiring official residency, a process that will not conclude before the end of the year.
We take many walks through the city, we go to the opera, the theater, to museums, to a speech by the pope. On the 25th Michael gets stung by a lost bumble bee in Postmasters Gallery. We see Belgian artist Hans op de Beeck at the Roma Europa festival.
Our game "The Graveyard" is featured in Playmode at the MAAT museuum in Lissabon.
October
We attend a panel conversation with Hiroaki Umeda and Valentina Tanni in the new NABA school in Rome where we meet Vincenzo Cuccia who invites us to do a workshop at NABA in Milan. Sadly we can't see Umeda's performance at the Roma Europa festival because it's sold out.
We attend the re-opening of Paper Room with our new friends Giuseppe and Francesca.

It has been an incredible honor to show our work next to that of such a legend of modern art as Jean Tinguely. And also very inspiring to notice the similarity with our own elaborate useless and broken machines.
From the sixth to the ninth we are in Basel setting up Cricoterie in the Tinguely museum and attending the opening of the exhibition. While we are in Basel, Cricotorie is also shown at Indiecade in California.
On the eleventh we go to the IULM game show in Milan to see the work by last year's Game Design Master students and next year's fellow professors. We take the opportunity to also visit the wonderful Pinacoteca di Brera and some design stores in search of inspiration for our new home. We notice how Milan is different from Rome.
In the middle of the month Auriea goes to work for the first time out of Italy, so in an airplane rather than a car.
At home Michael prepares a lecture for the Game Happens festival and finally continues work on the remake of The Endless Forest.
On the 21st Michael walks around the entire circumference of Vatican City.

Auriea's fully equiped studio in Rome remains unused when she is in Kassel. Michael has nothing better to do than walk around Vatican city. And Rome can't help but be pretty. Unless it can. They really love light spectacles here in winter.
When Auriea is back home, we meet up with Indiecade's Stephanie Barish, in town to visit her parents.
At the end of the month, Halloween starts in The Endless Forest, with the Zombie Deer logging in from the same old computer, but this time in Rome. We had hoped to be running Halloween in the remade game by this time but sadly things didn't work out that way.
We start watching all the Nanni Moretti movies we can find.
Our games Luxuria Superbia and The Endless Forest are featured in "The Coming World" in the Garage Museum of Contemporary art in Moscow.
November
Auriea works hard on 3D printed sculptures for an exhibition in Omaha. Michael studies Ortiz and Haendel on viola da gamba in prepartion for a concert next month.
When Auriea has left for Kassel, Michael locks himself out of the new apartment when hanging up laundry on the roof of the building. The proprietor comes and saves him.
On 7 November Michael and Auriea meet in the San Lorenzo cathedral in Genova to attend the Game Happens festival over the next few days where Cricoterie has been set up. After the festival, Auriea returns to Germany while Michael takes the five hour Frecciabianca train back to Rome.

Cricoterie is shown for the first time in our new homeland, at the Genova Game Happens festival. We scan the walls of emperor Trajan's market in Rome for a new art project. And Michael teaches in Milan. We're trying to integrate in Italy.
As required by the residency registration office, we acquire a very expensive health insurance.
In the middle of the month, Michael's parents were supposed to visit us. We had given them tickets to Rome as birthday presents. But due to lack of experience (it was only the second flight they would take in their life) and our failure to assist them properly they missed their flight and cancelled the holiday.
We attend a presentation by Venice Biennial winners and old Belgian friends Harald Thys en Jos Degruyter in our former home, the Accademia Belgica, where we had done the residency that inspired our move.
We attend a call for art projects in the Mercati di Traiano. We hope to create a new piece in the context of that ancient site.
We post a first update on our progress on remaking The Endless Forest since we've moved. We had hoped to release another build but we didn't manage to finish implementing all of Phase Two.
At the end of the month Michael gives an intensive two day workshop at NABA Milano entitled "Let's create a boring game!" We may not be making games anymore but we are trying our best to brainwash the youth to continue our struggle to create art with this medium.
December
We attend many concerts in wonderful churches organized by the Roma Festival Barocco, relieved to have found an alternative to our addiction to historically informed baroque music that we had been nurtured so well in Belgium. We especially enjoyed the intimate concert by the young Didone Abbandonata ensemble in Santo Stefano del Cacco.
In the middle of the month we celebrate the success of our hobbies with cocktails. On exceptional occasions we still allow ourselves some alcohol. A beautiful exhibition featuring Auriea's 3D printed scultures opened in Omaha and Michael had given his first concert on viola da gamba with a giant consort composed of Silvia de Maria's students.

Michael performs on viola da gamba for the first time in public. Auriea shows her sculptures in America. We design a physical exhibition around our games. We stay in the wonderful Brussels flat of our friends Nik and Maja. And we fly back to sunny Rome to celebrate the end of the year.
We prepare a presentation of our ideas for an physical exhibition about our games. At the end of the month we travel to Belgium to have meetings about this exhibition in the new Brussels museum and to celebrate Christmas with Michael's family.
On Christmas we fly back home.
Michael publishes his second book of untweeted thoughts in English. Next year in Italian!
Next

Where we were in 2019.
Due to moving to Rome and working in Kassel, 2019 has been one of our least productive years. We worked hard on Cricoterie and The Endless Forest. And we prepared for new things to come. But we did not release a single new piece.
Because we had to leave most of our things behind when moving to Rome, decorating our new home demands a lot of attention. So does settling in. There's the administration but also learning the language. And Rome is so beautiful! A day without a walk thorugh the city, if only to do some groceries, seems like a wasted day.
Next year we hoped to become more settled. As Auriea gets used to traveling back and forth to Germany and we do more and more projects in Italy. There's several new exciting pieces in the works. Hopefully some of them will see the light of day next year.
Have a great Capodanno!
—Michaël & Auriea, 31 December 2019.