2017
With art residencies in Poland and Italy, we only spent a little more than half of 2017 in Belgium, in the house we had just moved into last year.

A big part of our work in 2017 has been devoted to struggling to keep our art up and running as technology follows capitalism relentlessly towards the abyss. As large Goliaths seem to be running a campaign against digital culture, one small David is resurrecting old broken works through emulation. We find ourselves scrambling in the middle moving old code to new platforms, letting go of others and updating things where feasible.

In the little time left, we did manage to make some progress creating art in Virtual Reality with a prototype for a big new project and an experimental piece that combines Cathedral-in-the-Clouds with Greek mythology.

We researched old art in museums all over Europe and taught new art in Paris and Milan.

Creatively, instead of moving deeper into cyberspace as we expected last year, this year was significantly marked by a move towards the physical and tangible with Auriea getting more involved with 3D printing and sculpting and Michaël exploring the classical guitar. These efforts are not necessarily directly related to our larger projects, but they do absorb a lot of our time and passion.



Tale of Tales in 2017
an overview by Auriea Harvey & Michaël Samyn
January
In early January, sudden extreme rainfall combined with bad plumbing causes a horror night of filling and emptying hundreds of buckets of water in an attempt to prevent our ground level apartment from flooding. After, the drains are fixed and we get a pump just in case.
In the digital world, Apple is threatening to remove our game Bientôt l'été from the Mac App Store demanding that we update it even if it still runs perfectly fine. We do our best struggling through the digital hell that is the combination Unity, Xcode and Apple administration robots but our updates are rejected and Bientôt l'été is removed from the App Store.
While one USA entity is destroying our work, another tries to save it. In January, Rhizome publishes Alexei Shulgin's Form Art website in browser emulation. This 1997 net.art piece includes the Form Art competition that Michaël had won with 1001 checkboxes, 1001 radio buttons, you and me, do, love, love.
Auriea starts her second semester teaching at Parsons Paris.
At home, we work on prototypes for a Virtual Reality installation in the Museum of Sex, one of our first clients from when we started collaborating on web site design.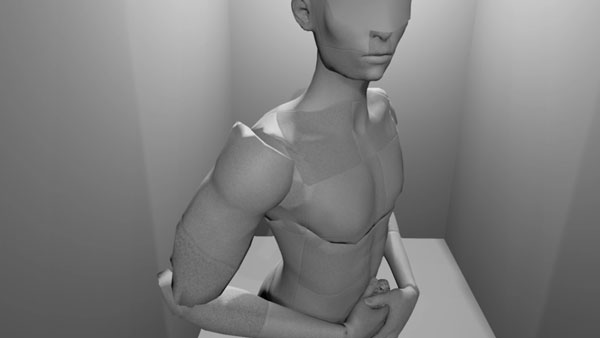 Thanks to a government grant for personal development, Michaël starts the Synthetic Image project involving research into image creation in old art and how to do something similar with computers. The project centers around the design of a diorama of the archangel Michael, in the context of Cathedral-in-the-Clouds. The grant will give us the opportunity to travel to museums to observerve masterpieces in person and spend time studying the problem and learning new techniques.
Also in January, the 3D prints of The Endless Forest deer we had ordered for the backers of The Endless Forest's Second Decade campaign arrive from Shapeways. This marks the start of Auriea's fascinating with 3D printing.
Michaël continues his guitar lessons with Luciano Massa until summer.
February
We submit a request for an art residency in Rome to the Flemish Ministry of Culture.
When Apple launches an attack on another older game of ours, Fatale, we decide to remove all our games from the Mac App Store.
In the mean time, Rhizome continues its attempt to save culture from the wreckage caused by the unholy union of computer technology and neoliberalism. On 24 February they add Michaël's 1995 web art piece LOVE to their Net Art Anthology so it can be seen again running in an emulation of its native Netscape 2 environment.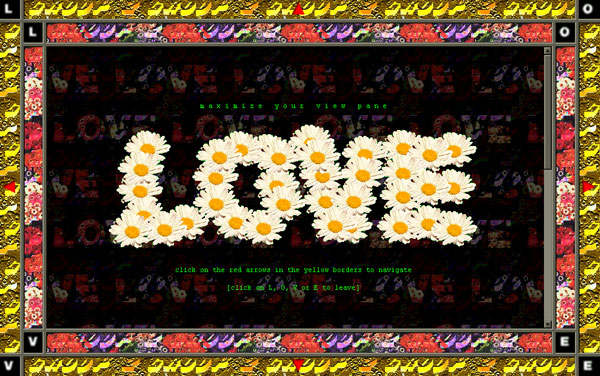 Partially also to save it from oblivion as progress marches on, work on the remake of The Endless Forest starts in Unreal Engine, thanks to the support of our deer community and IndieGogo backers.
March
Joining Apple's effort to destroy digital culture, Microsoft updates Windows 10 in such a way that our most popular game The Path now stops running properly. But thanks to the help of Act-3D we manage to release a 64-bit version built in the last Quest3D engine.
The Flanders Audiovisual Fund rejects our proposal for a Cathedral-in-the-Clouds diorama of Saint Ambrose for a second time. But we submit a request for funding a new Virtual Reality project inspired by the work of the Polish theater maker Tadeusz Kantor. Fingers crossed!
We release the sounds of The Endless Forest on Bandcamp.
In the context of the Synthetic Image project, we visit the wonderful Kunsthistorisches Museum in Vienna.
Michaël purchases an Amalio Burguet Andante guitar, tries out guitars in the amazing Siccas store in Karlsruhe and creates a Virtual Reality music visualizer to use while playing.
April
On 10 April we travel to London to talk about our experiences as software artists at a private symposium organized by Rhizome at Google Arts & Culture. We use the opportunity to visit the National Gallery for the Synthetic Image project.
While in London, Michaël tries out some guitars at the famous Kent Guitar Classics store in Sevenoaks, south of the capital. Later, he attends guitar festivals in Lier and Brussels and performs in public for the very first time at the Ghent Gitaarsalon.
Auriea meets with Luc Devos in Kerkhove to discuss bronze casting of her sculptures.
Also in April, the fifth generation of player identification pictograms is added to The Endless Forest.
May
Spring brings new fortune: the Flanders Audiovisual Fund accepts our proposal to fund our new Kantor-inspired VR piece and the Flemish government grants us a five month residency in Rome.
Rhizome re-launches our romantic first collaborative project from 1999 Skinonskinonskin in Windows 98 emulation as part of their Net Art Anthology.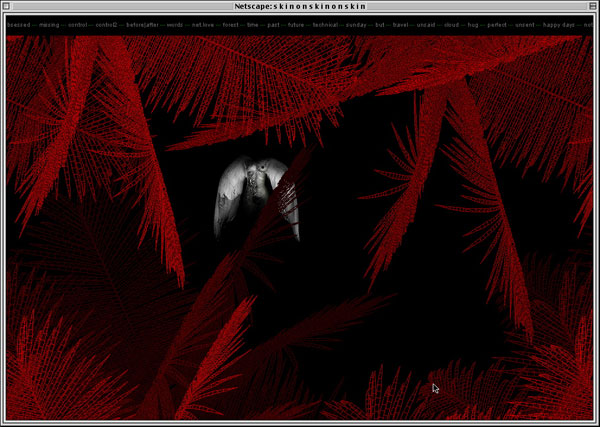 And we present with Eric Zimmerman and Nathalie Pozzi at Parsons Paris.
Michael tries Flamenco guitars at La Sonanta in Herzele and travels to Koblenz to attend the Guitar Festival.
June
Since Apple demands that all developers update all their apps to the upcoming 64-bit only version of iOS, we decide to stop paying our developer fees. As a result, Luxuria Superbia, Vanitas and The Graveyard cannot be played on iPhone or iPad anymore.
We update Vanitas for Android, where it is still welcome.
The Endless Forest server breaks down and Ion replaces it with a new 64-bit machine that will be capable of running the new server we are building in Unreal Engine.
Auriea's mother visits us in Belgium from the USA.
Auriea gets her statue of Mary Magdalene cast in bronze.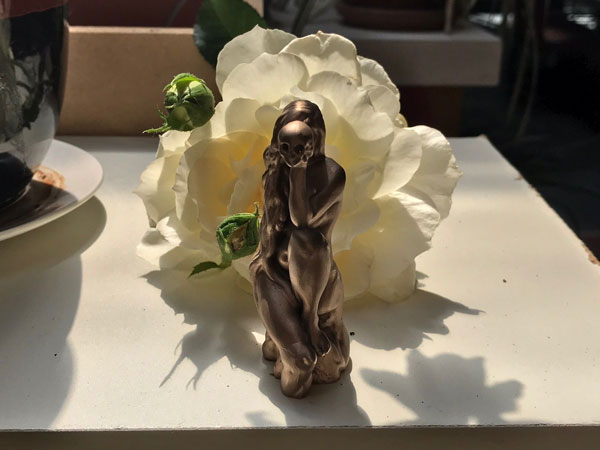 Michael buys a Markus Held Flamenca Negra in Siccas in Karlsruhe but returns it later because the instrument doesn't suit him after all, sells the Burguet Vanessa guitar that he got in Madrid last year and buys a Stephen Eden Cadenza guitar at Kent Guitar Classics.
Our July art residence in Hucisko is announced and at the end of the month we fill our small car with computer equipment, and our cat, to travel to Poland.
July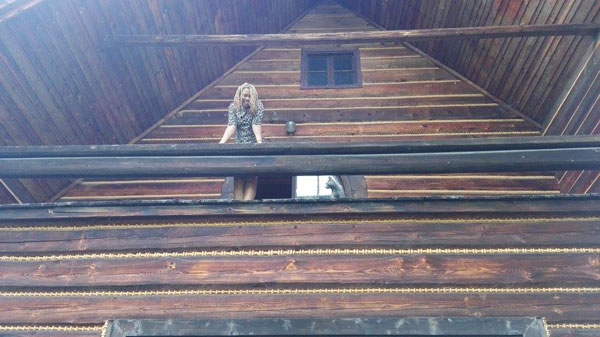 In July we stay in the large wooden cabin in the woods designed by Tadeusz Kantor himself in Hucisko in southern Poland. The isolated art residency is interrupted by two weekends of people visiting us, the second one to try out a prototype for the VR project that we build in situ.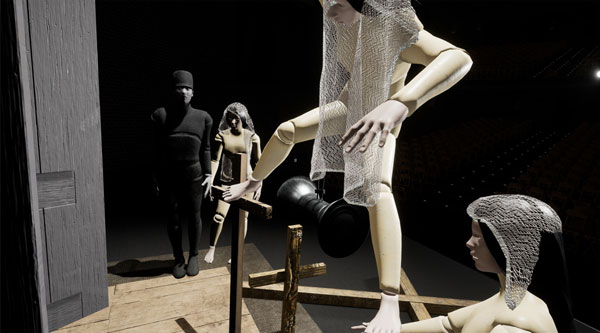 August
We cancel the art residency at iMal in Brussels planned for August as we prepare for our long stay in Rome.
Auriea buys an Ultimaker 3 3D printer.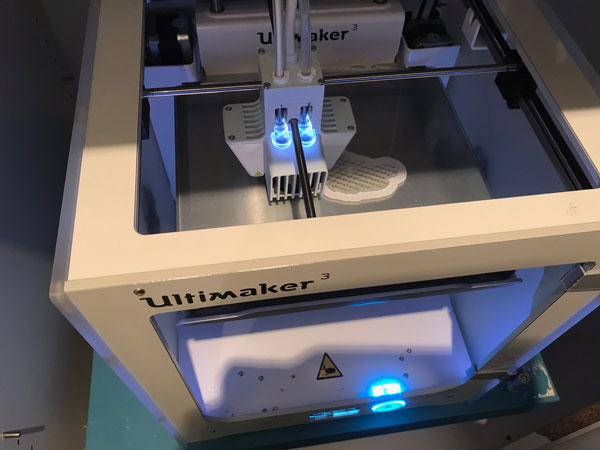 We travel to Kassel to negotiate Auriea's contract with the Kunsthochschule where she will start teaching next year.
At home we work on an installation design to present Luxuria Superbia at the Museum of Sex in New York, exploring the Virtual Reality potential of the game.
At the end of the month we fill up our small car again. This time, sadly, without cat. But with 3D printer and guitar. And we leave for a three day journey passing by Van der Weyden's Last Judgement, Mary Magdalene's Grotto and the Pisa Cathedral. Passing through Lyon, we visit the Galerie des Luthiers where Michael tries out some beautiful guitars.
September
On the first of September we arive at the Academia Belgica in Rome for an art residency that runs until January. Rome is still sweltering with summer heat as we gorge on ancient art and cathedrals, intensifying our inspiration for Cathedral-in-the-Clouds and much more.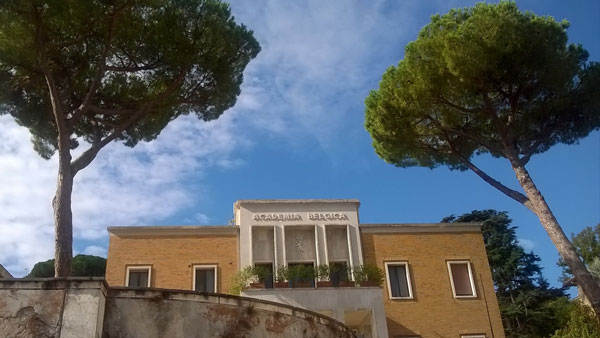 In our studio in the Academia, we work on porting Sunset and Luxuria Superbia to WebGL for the new Jump platform. Another effort to keep our work available on line.
While in Rome, Michael continues his guitar studies with Gabriele Curcioitti.
Also in September, the Victoria & Albert museum in London announces an ambitious exhibition on videogames that will include our game The Graveyard.
We travel from Rome to Milan on the super fast Frecciarossa train to attend an introduction of the Game Design Master Course where we will be teaching in November and December.
October
We fly back to Belgium for a week. If only to see our cat. Michael's son is staying in our apartment while we are away and welcomes us with a wonderful meal when we arrive.
While in Ghent, Auriea cuts off her dreadlocks after 20 years.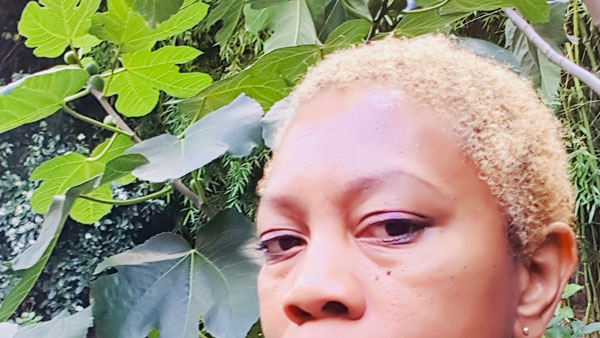 Every Sunday we attend mass in a different church in Rome. There are hundreds of churches in Rome, more even than we can visit during our long stay! We also visit Nero's Domus Aurea buried underneath Trajan's bath complex. We enjoy the Virtual Reality presentation in situ.
In our studio, Auriea continues work on a Virtual Reality installation to be presented to the public next month.
At the end of the month, Rome or no Rome, we celebrate Halloween in The Endless Forest.
November
Auriea travels to New York City to present Minorinth at No Quarter.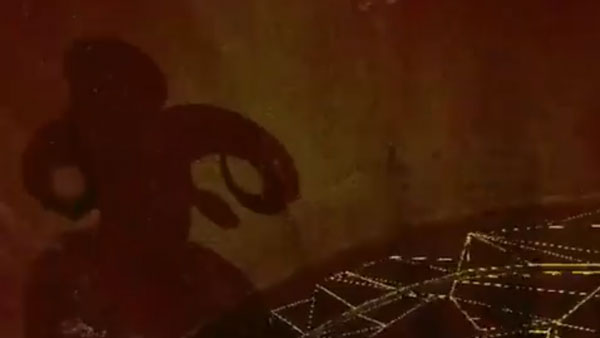 When she gets back, we fly to Düsseldorf where she receives the NRW Künsterinenpreis, and is surprised by Olia Lialina's web tribute and touching speech in her honor.
We start teaching at the IULM university in Milan, each one day per week. The Game Design Master Class consists of ten students eager to learn about our approach to game making.
While in the north, we go on a little road trip through Cisalpine Gaul (we had been re-watching the HBO Rome television series) to visit museums, churches and friends in Venezia, Verona, Padova, Mantua and Cremona. In Venice, Auriea visits the Biennale and Damien Hirst's gigantic Treasures from the Wreck of the Unbelievable show while Michaël collects a new guitar made for him by Marco Bortolozzo.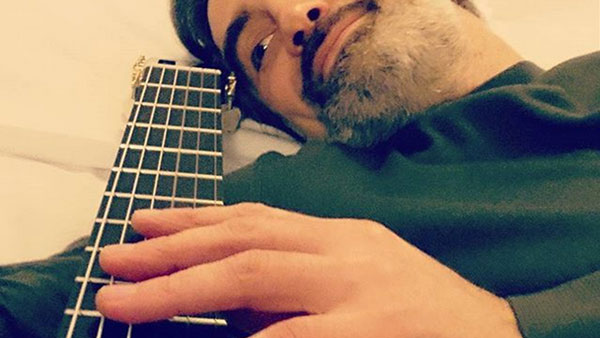 December
The first half of December is spent in an apartment right next to the Duomo of Firenze while Auriea does a sculpting workshop with Jason Arkles. But we continue traveling back and forth to Milan to teach.

On 13 December, after a long fascination with the instrument, Michaël has his first viola da gamba lesson with Silvia de Maria in Rome.
We fly back to Ghent for Christmas and update the translations patch for The Path while we have access to our source code.
It has been difficult to work at our regular speed in Rome but we did manage to continue remaking The Endless Forest.
After a frustrating long struggle with Italian import administration, we drive to UPS outside of Rome to pick up the 3D plotter that Auriea had ordered from the USA.
At the end of the month, almost as a New Year's present, we finalize the contract for the new Tadeusz Kantor VR project with the Adam Mickiewicz Institute and the Flemish Audiovisual Fund.
2018
Rome is wonderful. But we will be happy to spend some time at home next year. Although a new adventure awaits in Kassel, where Auriea starts teaching in March at the Kunsthochschule. This is not some little course for a limited time but a permanent position starting a new department.
Meanwhile, thanks to the support of VAF and AMI, we will be embraking on a new big project in Virtual Reality, inspired by Polish theater.

The work on the remake of The Endless Forest will of course continue. But it's hard to tell how long it will take.

Meanwhile, of course, we will somehow need to find some time for our explorations of sculpture and music.

Best wishes
As we stay in foreign countries, exploring ancient cultures, while cyberspace is being closed down by corporate capital, we find ourselves moving away from the petty concerns of social media and longing for the simple comfort of a home. There is nothing that we can do to save the mess that the world is in. But it still has a lot of beauty and joy to offer and we are determined to experience it. We're saying goodbye to timelines in 2018. And hello to the sun, the moon, the trees and the clouds, and people, artists, lovers, singers, students of existence, explorers of reality, feelers of the tangible, seers of the cosmos.

—Michaël & Auriea, 31 December 2017.